Interested in Custom Logos for you or your company? Email us at CustomLogo@skeehole.net. Promote, reward, advertise, take control! Skeehole tops Cornhole boards in prime display position! Imagine the possibilities! Please note that due to manufacturing set-up requirements, a minimum order of five (5) game sets is required with Custom Logo purchases.
- Sample client Custom Logo HPVDecals -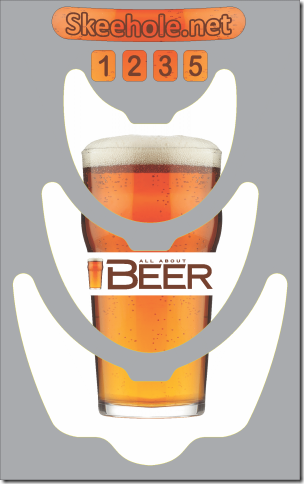 TAKE ADVANTAGE OF THIS OPPORTUNITY BEFORE YOUR RIVAL DOES and DO SOMETHING UNIQUE!
* Skeehole Offers Your Company an Awesome Visibility Option in Space Never Available Before
* Astute companies have been leveraging Cornhole boards as a brand recognition tool
* Recognize key contributors or clients while proudly displaying your brand

* Cornhole is played in taverns, stadiums and backyards nationwide
* Game awareness is massive, exceeding 150 million people in the US alone
* Over 12 million Cornhole game sets are in use today in bars, tailgates and more
NOW SKEEHOLE, A NEW AND INNOVATIVE GAME, "TOPS" CORNHOLE BOARDS
* Skeehole sits on top of existing Cornhole boards creating new advertising space
* Skeehole Gameboards place logos in prime position, covering Cornhole displays
* Skeehole offers a first and best case scenario as a branding opportunity
* Imagine your brand scoring maximum recognition wherever Cornhole is played